About
Dr Dianne Connell (Doctor of Chinese Medicine)
Dianne practices Traditional Chinese Medicine which may involve acupuncture, cupping, moxibustion, electro-acupuncture, laser acupuncture, gua sha, plum blossom needling, Tui Na and patent formula Chinese herbs.
Flower essences, pranic healing, aromatherapy, reiki or crystal healing may also be used, as needed, to help bring you to a state of energetic balance and well being.
With a degree in Biomedical Science (Monash)(1973), she is also equipped to understand your condition at the cellular level and to apply this understanding with nutritional and herbal medicine.
As a practitioner of natural medicine (i.e.not a GP) medical diagnoses cannot be made.  This means Dianne can't suggest you have a particular disease or medical condition.  
"My role is to delve below the surface and find causes of your condition and to address those causes with nutritional or herbal medicine or acupuncture and energy medicine."
Magnolia Natural Medicine contains several testing devices to help look below the surface.  They are NOT diagnostic although they give information about underlying causal factors.
1. The EDUCTOR is a computerized biofeedback device that can assess your nutritional status, hormones, allergies/intolerances, pathogens, toxicities, and any blocks to healthy flow of energy in the body.
The EDUCTOR device can detect, and treat (by quantum energy frequencies), the underlying causes of illness, encouraging the body to return to balance, harmony and self-healing.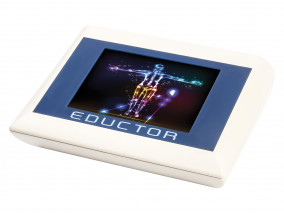 2.  IRIDOLOGY can accurately point to underlying genetic and environmental influences and gives information on inherent strengths and weaknesses, toxicities and metabolism of organs and systems, and even emotional states.  It does NOT diagnose disease.
3.  CELLULAR HEALTH ANALYSIS monitors fat percentage and muscle mass, biological age, hydration, fluid balance and metabolic risks, and you get a report that tracks your progress with time.
What To Expect at a Consultation
Before your first consultation you will be asked to fill out a comprehensive Health Appraisal Questionnaire and some other intake forms.  These can be emailed or posted or you can simply download them from the drop down menu called Appointments on the home page.  You are also asked to bring in any relevant medical tests as these are invaluable in both identifying conditions or ruling them out.
One of the forms to fill out is called My Wellness Goals.  This is important for both of us, as it allows me to better know your priorities so we can work closely together to help you achieve your health goals.  It also helps you to clarify what you want to achieve.
At the initial consultation, which takes 1.5 hours, I will go through your health history in detail, and use whichever assessment tools are appropriate to better understand your condition.  This may include Iridology, TCM diagnosis, Eductor biofeedback or celluar health analysis (CHA).
Then lifestyle and dietary suggestions are offered, to help bring you to a better state of wellness.  If acupuncture is appropriate it can be done also.
Supplementation of nutritional medicine and/or herbal medicine may be offered also if they are needed to help resolve your condition effectively.
An EDUCTOR 64 computerized biofeedback consultation takes 2 hours and is generally suggested for complex cases, chronic disease, allergies, auto-immune diseases and for many metabolic issues.  For further information see EDUCTOR menu.
Dianne's Qualification Details
Bachelor of Bio-Medical Science (Monash) 1973
Diploma of Education – Secondary Teaching (Rusden) 1974
Practitioner Diploma Of Acupuncture (Australian College of Acupuncture) 1995
Certificate of Western Medical Science (Latrobe School of Health Sciences) 1995
Post Graduate Diploma of Phyto-therapy – Medical Herbalism (Southern Cross Herbal School) 1997
Post Graduate Certificate in Chinese Herbal Medicine (China Herb)1997
Certificate in Chinese Herbal Medicine – Patent Formulas (Cathay Herbal)1996
Post Graduate Certificate in Celloid Mineral Therapy – 1996
Touch For Health 1,2 and 3 1998
Integrated Healing – Advanced Kinesiology – 2006
Certificates in Reiki 1 and 2 -1999
Advanced Pranic Healing 1999-2000
Esoteric Acupuncture- up to Advanced Level 2009- 2014
Integrated Iridology – Units 1 to 3 (Toni Miller) 1997-1998
Emotional Iridology – International Institute of Iridology (David Pesek) 1997
Advanced VLA 2000 and 2010
Advanced QXCI, SCIO and INDIGO training – 2000- onging (now called the EDUCTOR 64)
Member of Australian Acupuncture and Chinese Medicine Association – AACMA since 1995
Registered acupuncturist with Chinese Medical Registration Board of Victoria since 2005 and with AHPRA since July 2012.